Custer Pool

The Custer Pool will close August 20th for swimmers for the 2022 season!
We will have a Dog Swim on August 21st!
OUR SWIM LESSON PHILOSOPHY
The Y Aquatics Program is participant-centered. The emphasis is on learning, not passing or failing. Each development level is divided into 5 components which include personal safety, personal growth, stroke development, water games and rescue. It is not uncommon for a child to repeat any given level.
Our swimming lessons are specifically tailored to the child's age, swimming ability, level of physical development and confidence in the water. The participant will advance in the program as they become more skilled in the water.
FLOTATION DEVICES
Beginner level swimmers: We believe in the use of flotation devices to help children gradually become accustomed to the water. Every lesson, we remove the flotation device at least once to test your child's buoyancy and to build confidence.
REPEAT A CLASS
Every child learns at a different pace. Some children may remain at one level for a longer period of time. Once they develop into the requirements of the class, they will advance to the next level.
PLEASE NOTE
Classes often fill up very quickly so we encourage participants to register early. We do not offer a waiting list. Due to the short season, participant to instructor ratios and to keep classes at a consistent level, we are not able to offer make-up swim lessons. We do not give credits for individual classes missed regardless of the reason.
---
SWIMMING PROGRAMS
The YMCA Swim Lessons program uses a skill-based approach designed to meet the needs of the community we serve. Swim Starters develops water enrichment and aquatic readiness in children. Recommended are range: infants and toddlers (6 mos.-3 yrs.). Swim Basics develops personal water safety and basic swimming skills in students of all ages. Recommended age ranges: preschool youth (3-5 yrs), school-age youth (5-12 yrs), teens and adults (12+ yrs). Swim Strokes introduces and refines stroke technique in older students. Recommended are ranges: school-age youth (5-12 yrs), teens and adults (12+ yrs).
SWIM STARTERS
Swim Starters make up this parent-child category. Children learn to be comfortable in the water. Rather than teaching children how to survive in the water or become accomplished swimmers, Swim Starters focuses on developing swim readiness skills through fun and confidence-building experiences. Parents also learn essential skills in Swim Starters. Close supervision is the best way to prevent drowning. Parents learn how to supervise children in the water, how to prevent accidents and how to plan for emergencies.
WATER DISCOVERY (A)
Parents accompany children in this stage, which introduces infants and toddlers to the aquatic environment through exploration and encourages them to enjoy themselves while learning about the water. Goals include: setting developmentally appropriate goals, introducing and emphasizing basic water safety, building relations and providing opportunities for fun and interaction in the water.
WATER EXPLORATION (B)
In this stage, parents work with their children to explore body positions, floating, blowing bubbles, and fundamental safety and aquatic skills. The goals of this stage include: encouraging children to move purposefully in the water, respond to verbal and visual cues using toys and floatation devices, emphasizing basic water safety to parents, and providing opportunities for fun and interaction in the water.
SWIM BASICS
Swim Basics stages develop a high level of comfort in the water by practicing safe water habits, engaging in underwater exploration and learning how to reinforce learning how to swim to safety and exit if they fall into a body of water. Group activities that reinforce learning help students progress. By the end of this series of stages, students achieve basic swimming competency by learning two benchmark skills: Swim, Float, Swim & Jump, Turn, Push, Grab.
WATER ACCLIMATION (1)
Students develop comfort with underwater exploration and learn to safely exit in the event of falling into a body of water. This stage lays the foundation that allows for a student's future progress in swimming. Students will focus on: exploring the aquatic environment with instructor help, developing basic skills to propel and glide with instructor help, learn basic aquatic safety and accepting some responsibility for safe practices.
WATER MOVEMENT (2)
In this stage, students focus on body position and control, directional change and forward movement in the water while continuing to practice how to safely exit in the event of falling into a body of water. Students will focus on: exploring the aquatic environment without instructor help, develop basic skills to propel and glide through the water without instructor help, learning basic aquatic and boating safety and accepting some responsibility for safe practice.
WATER STAMINA (3)
In this stage, students learn how to swim to safety from a longer distance than in previous stages in the event of falling into a body of water. this stage also introduces rhythmic breathing and integrated arm and leg action. Students will focus on: integrated arm and leg action, rhythmic breathing in back and front glides, develop forward movement on the front and back, practicing skills and safety techniques in deep water.
SWIM STROKES
The Swim Strokes stages introduce and refine stroke techniques. In these three stages, having mastered the fundamentals, students learn additional water safety skills and build stroke technique, developing skills that prevent chronic disease, increase social-emotional and cognitive well being and foster a lifetime of physical activity.
STROKE INTRODUCTION (4)
Students in this stage develop stroke technique in front crawl and back crawl and learn the breaststroke kick and butterfly kick. Water safety in reinforced through treading water and elementary backstroke. Students will focus on: developing the front crawl and back crawl, introducing components of the breaststroke and butterfly and practicing safety techniques in deep water.
STROKE DEVELOPMENT (5)
Students in this stage work on stroke technique and learn all major competitive strokes. The emphasis on water safety continues through treading water and sidestroke. Students in this stage focus of the following: developing stamina in the front crawl and back crawl, developing the breaststroke and butterfly and building endurance techniques for deep water safety.
STROKE MECHANICS (6)
In this stage, students refine stroke technique on all major competitive strokes, learn about competitive swimming, and discover how to incorporate swimming into a healthy lifestyle. Students in this stage focus on the following: developing endurance in the competitive strokes, developing skills related to competitive swimming like flip turns and enhancing skills and building endurance in deep water.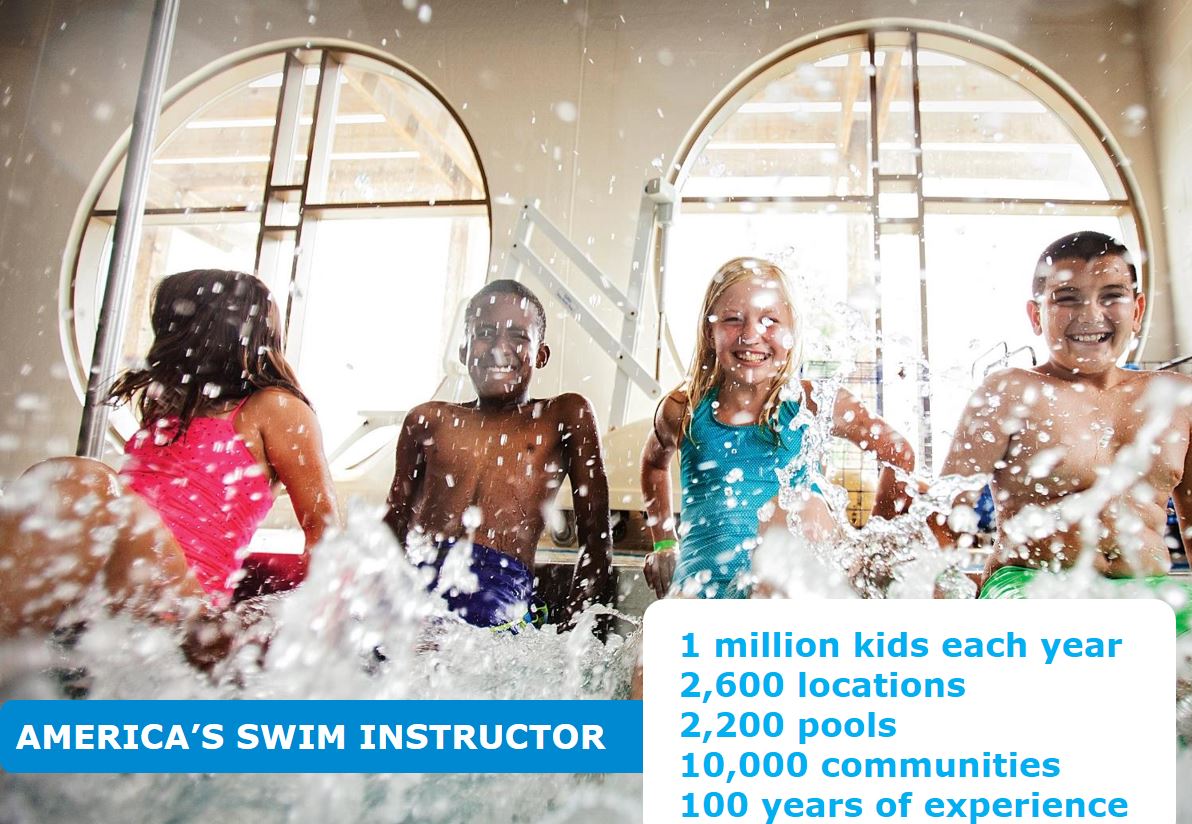 HOW WE GOT HERE
The YMCA Swim Lessons curriculum was developed by a group of aquatic experts and YMCA associations who pooled (pun intended!) their knowledge to help identify and vet a set of skill progressions and supporting activities. The program was then field-tested at YMCAs across the country and modified to be even more effective based on "real pool" experience. The result? A thoughtful, tested curriculum with skill progressions appropriate for participants of all abilities. In addition, a robust and comprehensive training was concurrently designed and tested.
This new training prepares instructors to deliver the best possible program and create an environment in which students thrive. Instructor candidates are exposed to an array of tools and resources to help them keep people safe around water, teach swim readiness and stroke development, and use activities that positively impact students' well-being by fostering achievement, relationships, and belonging. The combination of a highly developed curriculum and training solution assures that students receive the same high-quality swimming instruction at every YMCA across the country.
WHY IT MATTERS
The swim lessons program meets the mission and program objectives of our Movement. As a result, it makes for a better experience for students and their parents.
BENEFITS FOR STUDENTS
Students begin with those skills they are ready to learn.
Students achieve new skills often, which helps them build self-confidence.
Students have fun and develop new friendships as they get to know one another through group activities.
Students gain an important life skill that will keep them safe.
BENEFITS FOR PARENTS
Students learn in a student-centered, caring atmosphere and receive personalized attention.
Lessons are developmentally appropriate and quickly and effectively teach swimming skills.
Well-trained instructors prioritize safety and encourage students to develop a lifelong interest in aquatics.
Y staff inform parents of students' progress and actively encourage at-home activities and conversations related to swimming, water safety, and character development.
Lessons promote and reinforce the Y's core values of caring, honesty, respect, and responsibility.
Financial Assistance Available
No one will be turned away because you can't afford to pay for a program. Financial assistance is available.